Quality Large Format Banners printed using Original HP Latex Ink in Singapore
Imprint Media delivers high impact, high quality vinyl banners at very affordable rates (includes printing & finishing). Our state-of-the-art banner printing technology is perfect for your company's signages, trade shows, advertising, flags, corporate events in hotels, schools and offices as well as private events such as birthday party.
Our banners are printed on HP Large Format Printers with original HP Latex inks. HP Latex inks are ideal for indoor as it is odourless and last for 5 years indoor. It will also last for 3 years in the outdoor.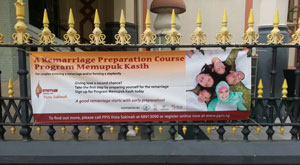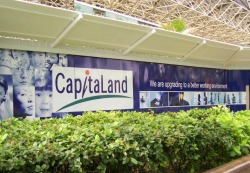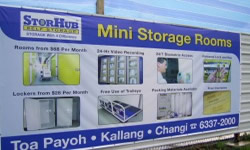 ---
Types of Banners
Depending on your needs, we provide several types of materials for our PVC banners:
- Standard PVC Banner (default)
This is our best selling banner. It is economic and highly durable.
- Awning PVC Banner
680gsm heavy weight glossy reinforced awning blockout banner. Water resistant coating suitable for indoor and outdoor.

- Mesh Banner
Made of high-tenacity polyester yarn. This banner addresses problem where the banner keeps falling or tear due to strong wind. With the mesh banner, it has the ability to reduce wind load. However, avoid having small text as it may be difficult to read due to the holes on the mesh banner.
- Fine PVC Banner
This banner has a smooth surface and has a finer texture as compared to the other PVC banners. It makes an ideal PVC banner for pillar wrap, X-Stand etc where a customers will be viewing it in close range.
Types of Finishing
- Eyelets
- Poles and pockets
Ropes are not included by default. Please request if you need them.
Sizes
Imprint Media offers a wide range of sizes for the PVC banners. There isn't any standard size. However, the larger the size of banner the greater the impact. Please take note on the resolution of the graphics available. The banner would not be nice if the graphics are pixelated or blur due to the small size of the original graphics. The minimum resolution of the graphics should be 100dpi at actual size.
Request for Quote
Contact us by sending an email to sales@imprintmedia.sg with the following information:
- Size
- Type of PVC (By default, we will print on Standard PVC banner)
- Finishing (eyelet / pole & pocket)
- Qty
- Installation (if required)
Besides having extensive experience in large format outdoor banners, stickers and signs, we also specialize in customizing indoor banners, backdrops and portable display systems for Dinner and Dance (DnD), Corporate Events, Product launches etc.
Large Format Printing

Printed Products
Decal
Shop Window Displays
Signages
Installation Services
Display Products

Graphics design Services