Footprint Sticker
Footprint, shoeprint and arrow stickers are ideal attention grabber for direct passer bys to walk towards certain location. They can be placed anywhere to convey your message at high traffic areas.
Imprint Media provide customised stickers that are laminated with slip-resistant, scratch resistant media which can withstand heavy traffic stepping on the stickers. They can be use to promote your products, events, decorations as well as effective information to lead the traffic to you. They are ideal for shopping centres, trade shows, events on the go, sports events,weddings, seminars and conferences. In addition, the stickers come off easily without leaving any adhesive residue which may damage the floor.
These power graphics come in a various sizes to fit your budget, and any venue. What better way to direct your traffic than right where people will see it, right under their feet.
We have ready designs for footprints, shoeprints and arrows. The colour and size can be customised. The price is based on size and quantity.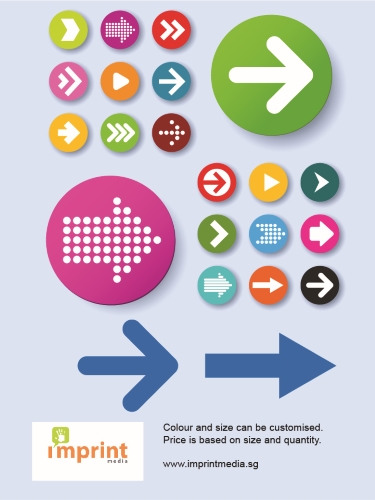 Large Format Printing

Printed Products
Outdoor Banner Stand
Decal


Shop Window Displays
Signages
Installation Services
Display Products

Graphics design Services