Offset Printing Services
Offset printing refers a method of printing where inked image is transfered (or "offset") from a plate to a rubber blanket and to the printing material surface. The modern process feeds a large reel of paper through a large press machine in several parts. The press machine prints continuously as the paper is fed through. Offset printing is best suited for economically producing large volumes of high quality prints.
For smaller quantity prints, Imprint Media would recommend digital printing.
The maximum size for digital and offset printing is A3. If you would like to print larger than A3, checkout our large format printing services.
Offset Printing
Offset printing technology uses plates, usually made from aluminum, which are used to transfer an image onto a rubber "blanket", and then rolling that image onto a sheet of paper. It's called offset because the ink is not transferred directly onto the paper. Offset printing is the best choice when larger quantities are needed, and provides accurate color reproduction, and crisp, clean professional looking printing.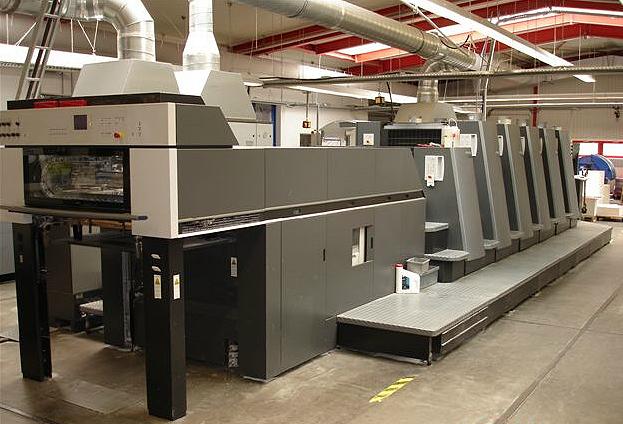 Equiped with the state-of-art Heidelberg CD-CP2000, Imprint Media is able to deliver prints of the highest quality in high-speed turnaround cycles. This benefits our customers in increase in turnaround time, quality and decrease in costs.
Some Advantages of Offset Printing
Offset printing produces consistent high image quality and is the cheapest method to print in large quantity.
Digital or Offset?
Both Offset and Digital are both useful printing methods. Each have particular benefits depending on your project's requirements. Whether you need Digital or Offset, Imprint Media will advise and provide you the best and cost effective solution.
For example when you need larger runs of a project, into the hundreds or thousands, or are using a specific, brand-centric Pantone color, offset printing is the way to go. You can also use a much wider variety of custom papers and specialty inks, such as metallic or fluorescent inks in the offset process. However, with our HP Indigo Press, we are able to deliver more custom papers and specialty inks than other digital printers.
Digital print is best for a small run of less than 200 or the need for individual addresses or information is required, digital is your solution.
The best part is that as a business, your needs can be met with either of these choices, and the high-level of quality means you get a printed product that will make you look great!