Envelope Printing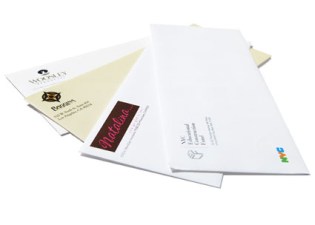 Envelope printing is more important than you thought. Envelopes are often the first impression of your company. They set the stage for whatever product or service you need to sell or the message you want to convey.
From standard envelopes to customised envelopes, our extensive capabilities allow us to offer a variety of services to meet your requirements.The following are some of the envelopes printing services that we provide:
pocket envelope
corporate envelope
business reply envelope,
direct mail envelope
billing envelopes
greeting cards envelope
Standard Envelopes
Imprint Media uses WINPAQ envelopes which comes in a wide range of standard envelopes in various styles and sizes. These envelopes can be further customised with additional design features such as windows and opaque inside printing. 
Features
250pcs/box or 500pcs/box depending on the envelope size.
Variety of sizes (DL, C5 and C4 sizes available).
Pocket envelopes (open on the short edge).
Options from 1 color to Full color printing on one side.
High quality 100gsm white envelopes, from normal brand to well-known brand such as Win Paq or Master Paq.
Window or Non-window available.
Come with peel and seal for some sizes.
Size Options
4″ x 9″
4.25″ x 8.75″ (DL)
4.5″ x 9.5″ / 4.5″ x 9.75″
6.375″ x 9″ (C5)
7″ x 10″
8″ x 11″
9″ x 12″
9″ x 12.75″ (C4)
10″ x 13″
10″ x 15″
12″ x 16″

The envelopes are produced using automated machines to meet superior quality envelope prints. We welcome urgent orders as we have a ready stock of over 20 million standard envelopes.

Customised Envelopes
Imprint Media can customise envelopes to any size or design. Other than size, you would be able to choose the colours, prints, texture, cut-outs and transparency of the envelope.
Our specialty range includes:
Paperbag envelopes
Bubble envelopes
Eyelet and string envelopes
Coin envelope
Colour envelopes
Untearable envelopes (EnDURO)
Etc.
Automated Inserting Machine Compatibility
If you are using corporate envelopes for direct mailer purpose, the characteristics of our corporate envelopes make them ideal for high volume automated inserting machines.
As part of our professional service, we are able to analyse our customers' automated inserting machines prior to production. This is to ensure that our envelopes can be inserted quickly and efficiently - which is especially essential for mass mailing as it helps lower operation time and costs.