Binding
There are many ways to bind a book or magazine. Imprint Media provides the most common type of binding. Types of binding available at Imprint Media: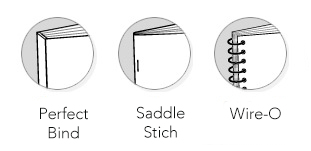 Saddle Stitch
Saddle stitch binds pages together by driving staples though the centerfold of a book. Many booklets and magazines are bound by saddle-stitching. Although perfect binding has replaced much saddle-stitching, the latter is still cheaper and the most effective method for binding materials up to a certain thickness.
Perfect Bind
Perfect Bind binding utilizes adhesive to hold pages together. Perfect binding, also known as adhesive binding, applies an adhesive to the spine of gathered pages which, when dry, keeps them securely bound. Commonly, a soft paper or paperboard cover (or paperback) is attached over the binding adhesive. Perfect bound publications have rectangular backbones. Publications bound by perfect binding include paperback books, catalogs, and magazines.

Wire-O
Wire-O binding uses wire to hold pages together. For wire-o binding, the side of gathered pages are punched and insert with wire to hold the pages together. Commonly, a hard cover or plastic sheet is placed on top as the book cover.